EuroSun 2022 will take place on the campus of the University of Kassel, Germany and will be hosted by the Department of Solar and Systems Engineering.
The City of Kassel is located about 1,5hrs from Frankfurt and is world known for being the host of the art exhibition documenta, it's UNESCO world heritage site Mountain Park Wilhelmshöhe.
The University of Kassel is a young, modern and vibrant university with numerous fields of expertise in nature, technology, culture and society. With more than 23,000 students and approximately 1,800 scholars, among them more than 300 professors, the University of Kassel is one of Germany's mid-sized universities. It plays a key role in the development of the northern Hessen region, but its profile also attracts many students and scholars from across Germany and abroad.
The congress venue CampusCenter at the University of Kassel was awarded the German Facade Prize 2015 for its striking and pictorial design. With a usable floor space of around 4,900 square meters, the impressive building integrates six lecture halls as well as six seminar rooms with around 2,700 seats. Due to its open atmosphere and close proximity to the university's central cafeteria, the building is ideally suited for events such as congresses and exhibitions.
Venue Address:
Campus Center - Hörsaalzentrum/ Servicestellen
Moritzstraße 18, 34127 Kassel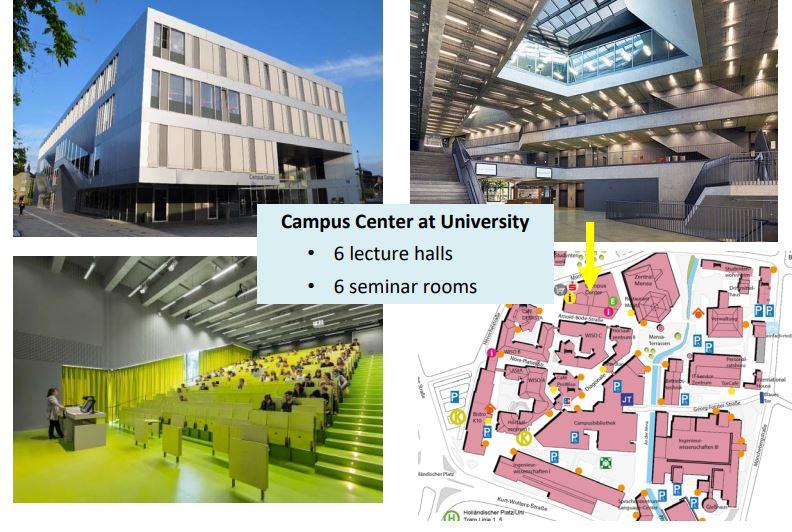 Travel and COVID-19
Visa Requirements
It is the sole responsibility of the attendee to contact the nearest embassy or consulate for visa details and to allow sufficient time for the visa application procedure. Please note that the visa process might take several months. Please check the website of the German Federal Foreign Office here for more information about visa requirements.
COVID-19
When planning your trip to Kassel, please make sure to regularly check the COVID-19 entry and quarantine regulations in Germany - please find them here.
Traveling to Kassel

By Train - Special EuroSun 2022 Event Ticket
Train connections to Kassel Wihlemshöhe station (long-distance train station) run hourly from all major cities in Germany.
Kassel is about 1.5 hours by train from Frankfurt Airport. A direct train departs from the airport and arrives at Kassel-Wilhelmshöhe station at regular intervals. There are also train connections from Hamburg, Frankfurt or Munich. All stations in Kassel have good local and public transport connections.
Special EuroSun 2022 Train Ticket: As a special offer for our EuroSun 2022 Attendees, we have secured special event tickets for you when traveling to Kassel by train. These tickets are a best price offer by the German railway company Deutsche Bahn - book your ticket here. Please keep your conference registration confirmation on hand as your EuroSun 2022 event ticket is only valid for registered attendees.
Here you can find a manual how to book your ticket through the Deutsche Bahn portal.
By Plane
The most convenient way to reach Kassel by plane is to fly to Frankfurt Airport. Kassel is about 1.5 hours by train from Frankfurt airport. A direct train departs from the airport and arrives at Kassel-Wilhelmshöhe station at regular intervals. You can find the departure times at http://www.bahn.de.
It is also possible to fly to Berlin, Munich, Hamburg, Leipzig or Cologne and to take a train to Kassel from there.
By Car
Motorway connections to Kassel
A7 Flensburg - Hamburg - Kassel - Frankfurt and/or Würzburg

A44 Cologne/Dortmund - Kassel - (Eisenach) - Erfurt

A49 Kassel - (Marburg/Gießen) - Frankfurt
How to get to the conference site by tram and bus:
To reach the EuroSun 2022 congress site, please travel to the following tram stations:
"Holländischer Platz - University"  using Tram line 1, 5 or Regio-Tram RT1, RT4

"Am Stern" - Tram lines 3, 4 or 7 (option to change to tram line 1 or 5 or walk the short distance to Holländischer Platz)

"Katzensprung" – Tram lines 3,6 and 7
Here you can find the website of the local transportation network VNN.
An overview with all trams and busses can be found and downloaded here.
Please note: It is possible to buy your ticket on the tram (ticket machine) and on the bus (with the driver). Please be prepared to bring cash (prefarably coins). In case you booked your train ride to Kassel with our special EuroSun2022 offer together with Deutsche Bahn, your connection ticket is included and you do not need to buy an extra ticket.
From the "Kassel-Wilhelmshöhe" station to "Holländischer Platz":
From Kassel-Wilhelmshöhe train station, take any tram with direction to the city center. The city is located east of the station (downhill)
Line 1 takes you directly to "Holländischer Platz/Universität".
Lines 3, 4 or 7 take you to the tram stop "Am Stern". From there, walk about 250 meters north (downhill) to the tram stop "Holländischer Platz/Universität" (both takes approx. 17-19 minutes).
From "Holländischer Platz/Universität", the EuroSun 2022 conference site (Campus Center, Moritzstraße 18) is about 5 minutes walk (400 meters) away.
From Kassel main Station to "Holländischer Platz":
From Kassel main station ("Kassel Hauptbahnhof") take bus 110 in the direction of Holländer Platz, bus 52 in the direction of Sandershausen or bus 30  and get off at the stop "Holländischer Platz/Universität". Please note that you can buy your ticket from the bus driver in cash only (preferably coins).
Please note: If you wish to use public transport on the conference days Monday, Tuesday, or Wednesday, we are happy to hand out a limited number of day tickets to you on site.
Lunch at the Cafeteria